We can't talk about home decor and organization without mentioning the ageless appeal and usefulness of barn doors in your home. Both functional and aesthetically pleasing, barn doors are an excellent alternative to standard swinging doors in areas with limited space.
Let's take a look at seven lovely ways to use barn doors in your own home and get inspired with these astonishing barn door ideas.
The Beauty and Functionality of Wood Barn Doors


The beauty and practicality of wood barn doors make them something very special. Their rustic aesthetic adds a homey sense to any room, and their sliding mechanism is a convenient alternative to conventional swing doors in tight quarters. A barn door is an interesting way to personalize any room in your house, whether it's the master bath, a closet, a pantry, or a multipurpose area.
Barn doors are popular due to their ability to maximize a limited floor area. Barn doors, in contrast to conventional entrance ways, are mounted to a sliding track and swing outward. That extra space created by the elimination of the need for door swings can be used for whatever purpose you like, be it arranging furniture or simply walking around the room. Because of this, they are frequently selected for tight quarters.
Double barn doors are eye-catching, but you should consider where they would be most useful. You can use them to divide a big space into two smaller ones, such as a living room and a dining room. On the other hand, they can be used to hide more substantial storage spaces like pantries and walk-in closets. The trick is to put them in places where they can serve a dual purpose.
Double barn doors, like their single counterparts, are an excellent means of economizing on living spaces. When a standard swinging door doesn't fit, a sliding door can be the perfect solution. As an added bonus, twin barn doors can give your home an air of sophistication and depth. There is a wide variety of styles and finishes to pick from, so you may find the right fit for your home's existing furnishings.
Open sliding barn doors create a spacious living room, whereas closed ones divide it. A sliding barn door is more convenient than typical room separators because it doesn't need to be stored. Sliding barn doors are also customizable. Choose designs, colors, and finishes that complement your taste and home style.
Functional and attractive, sliding barn doors slide on a track instead of swinging out, thus saving living space. These make them ideal for compact flats or crowded homes. Homeowners love their quick installation and versatile design.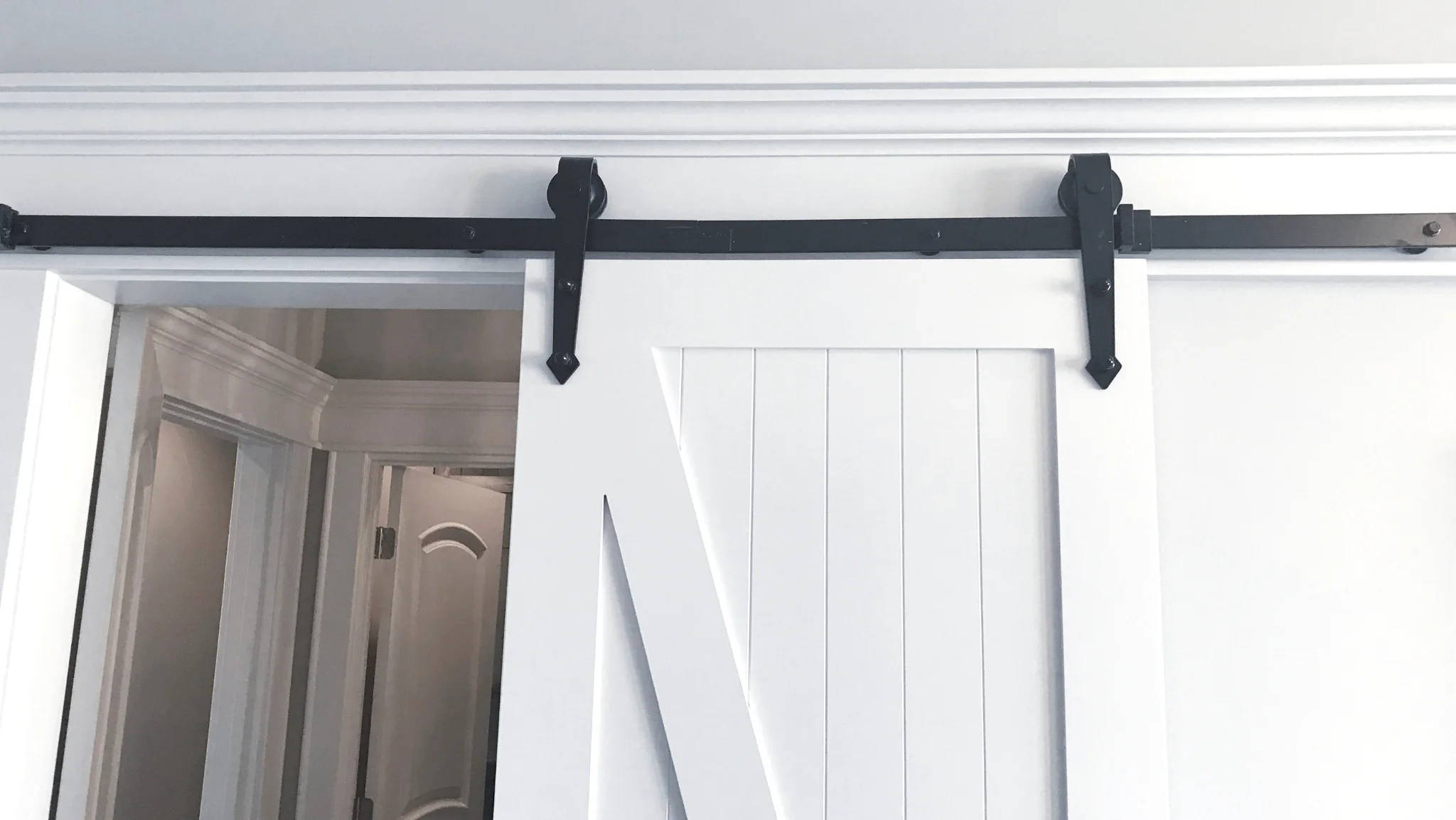 Use of Barn Doors as Room Dividers
Barn doors are a great option for partitioning a room into distinct zones without compromising the room's overall flow or usability. When they're completely open, they make it easy to move from one room to another. When shut, they provide a secluded nook that's free from the house's general noise and bustle. They are also a wonderful option for houses without partition walls because they create the impression of distinct rooms.
The possibilities for customization for a barn door screen are endless. If you want your home to have that country feel, install a real barn door made out of salvaged wood. Alternately, new internal barn doors with clean lines and modern finishes are a great choice for a more up-to-date look. Always keep in mind that your room divider barn doors should match the existing decor in your home.
French-Doors and Barn Doors
French doors inspired by barn doors include many glass panels in a rustic timber frame. This design improves natural light and visibility between rooms and adds beauty and sophistication.
Like all barn doors, French door inspired ones save space. They slide along a track without swinging. Glass panels also let natural light into a small area, making it appear larger. These doors are ideal for people looking to upgrade their home decor with their elegant appearance.
Barn Doors in the Master Bathroom



A barn door in your master bathroom adds beauty and solitude. They add rustic beauty to the bathroom and provide a barrier when needed. In addition, their sliding mechanism makes them ideal for small bathrooms. You can complement your bathroom decor with a selection of patterns and finishes.
Choose a smooth barn door for a bathroom that can handle dampness and moisture. For smooth functioning, tighten the mounting hardware and install the track properly. The door's lifespan can be extended by carefully maintaining the sliding mechanism. Clean the door periodically to keep it looking good and sliding smoothly.
DY barn doors require multiple steps. Measure the door installation space first. Determine your wall and ceiling conditions to choose the proper sliding door hardware. Choose a rustic wooden or modern glass barn door design. Install the rolling door hardware. Remember, careful planning and execution are vital for DIY projects.
Choosing your barn door material depends on your style. New wood or glass is more modern than reclaimed wood. Choose heavy-duty hardware that can withstand the door's weight and movement. Choose effective hangers, tracks, handles, and locks that match the door's aesthetic.
Barn Doors for the Laundry Room

Lack of space makes barn doors excellent for laundry rooms. Instead of a swing door, they slide along a track. While closed, they can reduce washing machine and dryer noise, making the home quieter.
Design-wise, laundry room barn doors are plentiful. Select from modern doors with clear lines, rustic doors, or doors with windows that let in natural light. Louvered panels add visual interest and ventilation, while solid wood panels are more conventional and robust.
In conclusion, barn doors provide a wealth of options for enhancing the aesthetics of a room and making the most efficient use of available square footage. Interior sliding doors may be the answer you've been seeking if you want to partition a room, save square footage, or simply enhance the aesthetic appeal of your home.