With the right wooden outdoor furniture, your backyard can transform into a spectacular canopy of beauty. You'll be able to create a truly special and serene environment for yourself, your family, and guests to enjoy all year round. From relaxing in an outdoor lounge chair with a romantic partner to sipping coffee in Adirondack chairs and listening to birds sing - it's easy to unlock new levels of relaxation outside when you incorporate the right wooden pieces.
Comfortable Outdoor Furniture Tips to Elevate Your Patio
What Type of Wood Is Best for Outdoor Furniture?
Teak is unquestionably the most preferred wood option for outdoor furniture. This fine-grained hardwood's price is quite expensive due to its great demand and restricted supply. Thankfully, teak has numerous properties that make it perfect for outdoor usage and worth every penny. It's very sturdy and will not warp, break, or become brittle like many other types of wood. This is due to the fact that teak repels the majority of water and does not expand or shrink when drying. It has a high natural oil content, making it very resistant to rotting, decay, and insect damage. Teak's resistance to the elements allows it to live the longest - up to fifty years! If left untreated, its magnificent honey brown hue may be maintained with minor oiling, or it can age into an appealing silver-gray over time.
Pros: The advantages of using this hardwood include its long-lasting nature, its strength, its ability to withstand different weather conditions, insects, and rot, as well as its lack of splitting or warping and its low-maintenance requirements.
Cons: The main disadvantage is its cost.
This famous wood is stronger and tougher compared to other types and may be expected to survive for decades. Thanks to its structural capacity to repel water, which also helps it resist decay, it has long been used to make boats. Unfortunately, it lacks natural oil and requires paint or a sealer to be durable. Untreated white oak acquires an appealing gray patina over time.
Pros: water-resistant, rot-resistant, and sturdy.
Cons: Insufficient oil content.
This wood has a rich hue that doesn't fade when exposed to the elements as quickly as other woods. Its natural oil content makes it resistant to insects, decay, and a wide variety of fungi. It is also resistant to denting, warping, and breaking thanks to its thick, robust composition. IPE is very long-lasting, but it takes a lot of work to cut and glue together properly.
Pros: Long-lasting, sturdy, and resilient to insects and fungus
Cons: Tough to work with
This sturdy Australian hardwood grows quickly, lasts for decades, and is far more affordable than teak. It can withstand both moist and dry conditions, and the oil extracted from it may be used as a pesticide. Nevertheless, a sealer is advised to improve its resilience to pests and to mitigate the detrimental effects of irregular moisture retention.
Pros: Longevity, pest and rot resistance, eco-friendly, sustainable growth, and low cost
Cons: Susceptible to cracking if not sealed
What Are the Best Finishes for Wooden Outdoor Furniture?
Lacquer and polyurethane:

Applying lacquer and

polyurethane

can be a laborious and tedious process that can take a while to complete correctly. Despite this, the protective coating will help to keep wood safe from water damage and scratches. It is possible, however, that the finish may become yellow over time, and bubbles may form on the surface.

Epoxy:

Epoxy-finished wood is exceptionally durable and simple to maintain. It can survive severe weather and scratches for years without deterioration. Its application is tough, similar to that of polyurethane, however, one coat will last considerably longer.

Varnish:

Applying varnish to wooden furniture prevents moisture from penetrating it. Finishes, in general, help prevent the occurrence of rot, warping, and cracking. While varnish is simple to apply, it is not as durable as polyurethane sealants and has to be reapplied more frequently since it might peel and crack. Some people may be put off by the need to remove old varnish and sand the wood before applying a fresh layer of varnish.

Traditional stains:

They come in a wide range of colors and enable you to adjust the look of the natural woodgrain. They are UV-resistant and may include mildew-preventing fungicides. They do not peel or flake, but they do not provide as sufficient surface protection as do sealants. Stains are a low-cost choice, but they may need to be reapplied on a yearly basis.

Oil:

Oil infuses the wood, similar to how a stain would, and prevents it from absorbing moisture. Additionally, oil acts as a shield to protect against any damaging ultraviolet rays. Being transparent, they intensify the color of the natural wood grains, letting them shine through without creating a coating that may break or chip.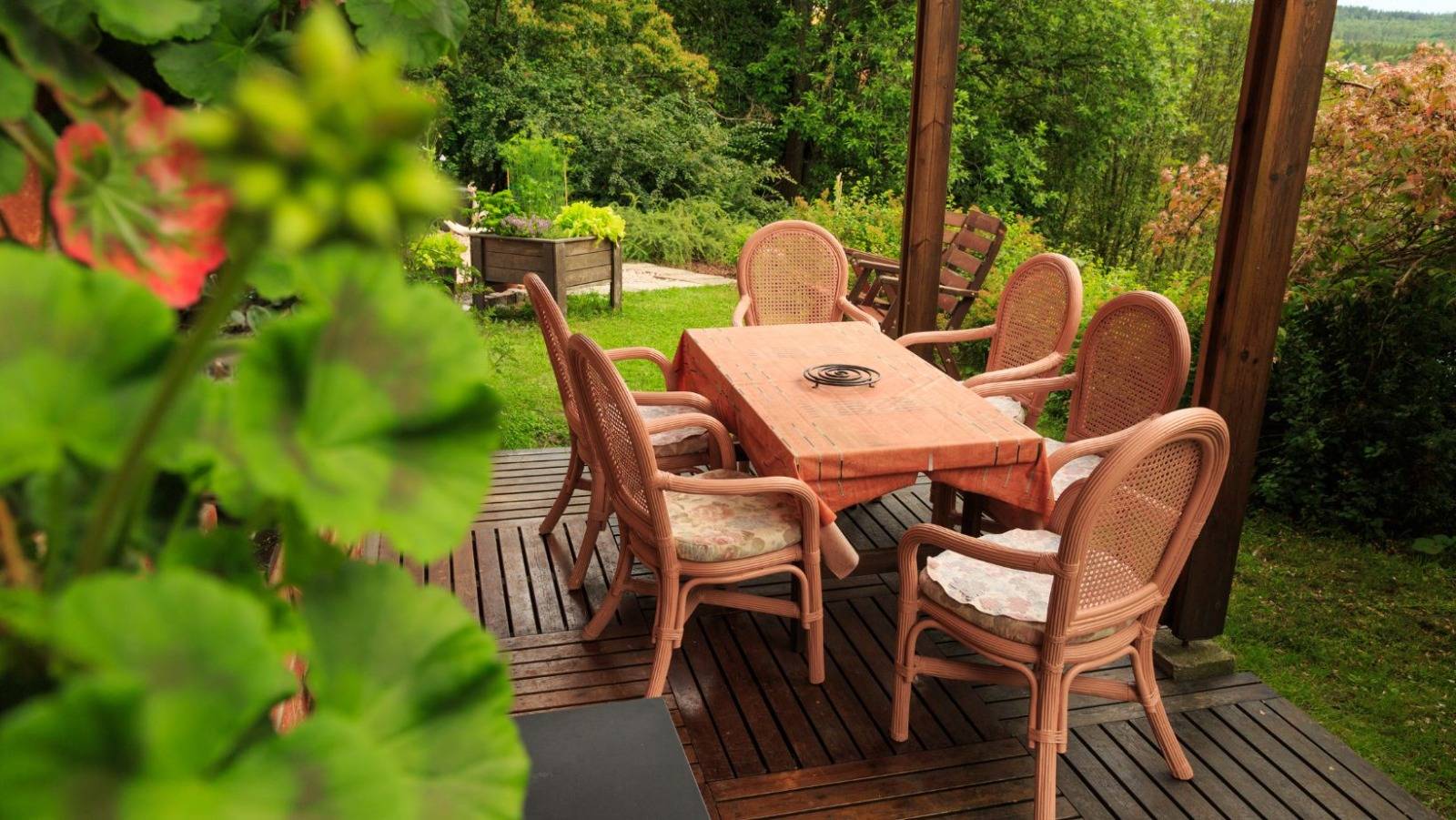 Comfortable Outdoor Furniture Decor Ideas
A garden coffee table is a stunning addition to your outdoor living space. Crafted from durable, weather-resistant materials, this piece of furniture is the perfect centerpiece for any backyard or patio. Not only does it provide an unexpected and unique way to enjoy morning coffee or afternoon tea, but it also allows you to admire nature in a quiet and peaceful atmosphere. It's the perfect accessory for anyone who likes to relax in front of pleasant views while sipping on their favorite beverage.
If you're looking to add a bit of color and magic to your garden this season, why not consider decorating with some vibrant garden cubbies? These fun and colorful additions are sure to help bring the outdoors to life! Perfect for adding a splash of joy to any area, their vibrant hues will instantly lift everyone's spirits. Plus, they're a fantastic way to store garden tools, toys, and other items neatly while adding visual interest to your garden. So why not make this the spring that you incorporate colorful garden cubbies? You certainly won't regret it!
Reclaimed Wood Outdoor Shelving
Decorating with outdoor shelving crafted from recycled timber is an ideal way to add a stylish and unique look to any patio or garden. Not only is it a greener choice, but it also makes an eye-catching addition to any décor scheme. Whether used for plants or decorative objects, recycled timber outdoor shelving offers versatility and beauty to any backyard. With so many creative options, decorating with reclaimed wood shelving will bring warmth and beauty that can be enjoyed all year long.
Creating an outdoor living room is a great way to enjoy the outdoors and extend the living areas of your home. It is surprisingly easy to do with a few furniture pieces, such as comfy sofas, armchairs, or ottomans combined with versatile accent pieces like area rugs and decorative side tables. For warmer weather, use bright colors like lemon or yellow that contrast nicely against lush greens, while for cooler days, richer jewel tones will make the space feel more welcoming. With an outdoor living room you can gather friends and family around to share conversations, tell stories, enjoy meals, or create lasting memories surrounding a fire pit on chilly nights.
If you're looking to make your backyard a place to relax and enjoy the outdoors, nothing will do the job better than some stylish outdoor furniture. Rocking chairs and chaise lounges will help transform your outdoor living area into a stunning haven that you can use to entertain guests or just lounge around with family and friends. Put down an outdoor rug in your favorite color and cushion your chairs for maximum comfort and you'll be good to go!
Protect Your Outdoor Patio Furniture with a Sunbrella
It can be quite disheartening to invest in outdoor furniture for your backyard only for it to fade or deteriorate over time due to sun damage. To ensure that your outdoor space can stay looking great year after year, it's always recommended to protect your furniture with a quality sunbrella. Sunbrellas come in a range of colors and styles so they will match your aesthetic while also drastically prolonging the life of your patio furniture. Sunbrellas are designed to be perennial, so you won't have to worry about continually buying new furniture or covers - just sit back and enjoy the view!
Overall, transforming your backyard with wooden outdoor furniture is a great way to add charm and make it more enjoyable. By taking the time to choose the right furniture pieces and maintaining them properly, you have the potential to create the perfect backyard you can enjoy for years to come. When choosing wooden outdoor furniture, it's best to choose pieces made of sustainably sourced wood that can endure all types of climates. With these tips in mind, you'll be on your way towards creating your very own backyard paradise!